We've had some wonderful wildlife sightings across our Inkaterra properties in the past month. See below for some of our highlights and unique stories from Inkaterra Machu Picchu Pueblo Hotel, Inkaterra Hacienda Concepcion and Inkaterra Reserva Amazonica. Each of these sightings are seen and reported by the Inkaterra Explorer Guides during our Inkaterra excursions.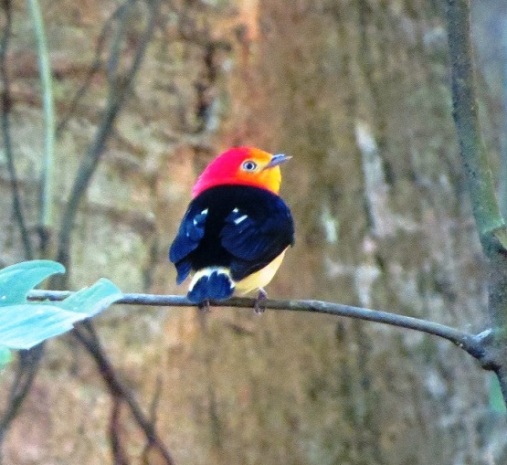 Luis Ortiz, Inkaterra Explorer Guide, has been conducting a Lek Monitoring Project, consisting in a group of males competing for a chance to mate with females, of Band-Tailed Manakins (Pipra fasciicauda) at Inkaterra Reserva Amazonica. In one of his most recent outings, Luis observed a specimen performing a series of exhibition movements, such as jumping and dancing, in order to attract a mate. The sighting lasted about five minutes, long enough to record the activity, as part of the project, and take the photo above.
Written by Lizbeth Chávez, our Explorer guide at Inkaterra Hacienda Concepcion 
As we headed back to the lodge with two Spanish travellers from a canoe ride at Lake, we were entering the exit canal of the lake and I spotted what appeared to be an extremely poisonous snake. A two meter long fer-de-lance (Bothrops atrox) laid well camouflaged on top of some dead leaves. This snake species is  difficult to observe due to its solitary and silent behaviour. When sighted, it stayed very quiet and still, as if waiting for a distracted prey to walk by. Being underneath the sun's rays I realised it was basking in order to warm its blood. After a few minutes of observing the snake (which allowed us to take some photos) we decided it was time for us to continue our journey, leaving the fer-de-lance alone sunbathing at the lake.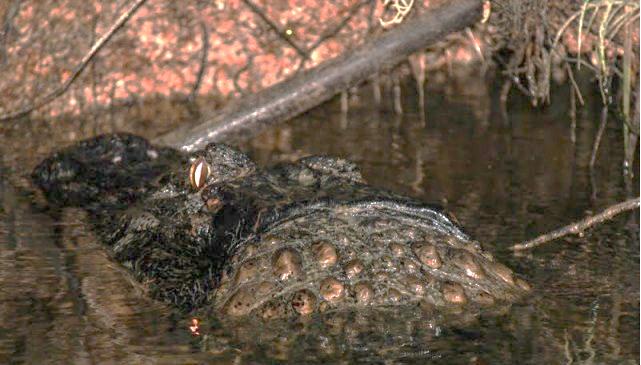 On the Twilight River excursion with the help of Alan (another Inkaterra Explorer Guide) we observed a rarely seen species of alligator in the Madre de Dios River: a black caiman (Melanosuchus niger). Although we observed the caiman's head protruding above the water surface, measuring about 70 centimeters long. Calculating the length of his body according to the size of his head (which usually is 7 times longer) we arrived to the conclusion that the caiman was about 4 to 5 meters long from its mouth all the way to the tip of the tail. It was so large that he was not afraid when our boat stopped a few meters away. The caiman stood still for more than 2 minutes, allowing us to observe this reptile in detail: black head,  big eyes, and its mouth filled with sharp teeth. I share with you a photo of the sighting. Enjoy!
A day as a bear at Inkaterra Machu Picchu Pueblo Hotel
At 12:30m on September 22nd, Inkaterra staff working near the Vilcanota River reported the sighting of a spectacled bear within the hotel grounds, also known as Andean bear (Tremarctos ornatus), walking on the left bank of the Vilcanota River in front of Café Inkaterra restaurant. Fortunately the bear was in sight for more than 30 minutes which allowed staff members and travelers to observe and take pictures of this interesting species. During that time the bear went down to the river, drank water, took a bath, and then climbed a tree to feed on bromeliads. Quite a show. Let's hope he visits us again!
At 3:45 pm on October 7th, Florentino Candia and Rudy Quiroz, security and logistics personnel at Inkaterra Machu Picchu Pueblo Hotel respectively, were working near the railroad, when they saw some branches moving on the opposite side of the river. After a few minutes, a spectacle bear (Tremarctos ornatus)appeared from between the branches looking for bromeliads. They immediately reported the sighting to the Ecology and Ecotourism staffs by radio come and watch this interesting species. The bear was 2 years old approximately and looked underweight, due to the dry season that the area was currently going through. The sightings are specially important because we can learn more about the species behaviour, eating and breading habits.
Check back on our blog next month for our top sightings from November!